Description
SANDALWOOD BACKFLOW DHOOP CONES
NAG CHAMPA SATYA SAI BABA
SANDALWOOD BACKFLOW DHOOP CONES
24 DHOOP CONES PER PACKAGE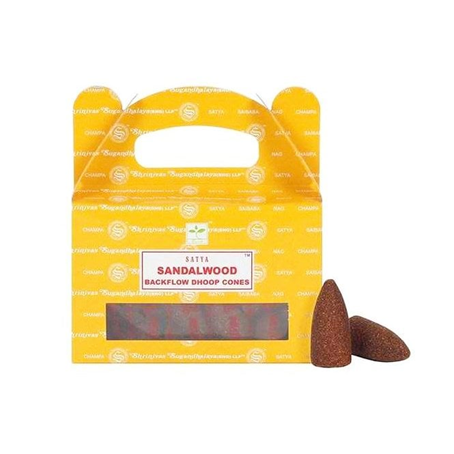 SANDALWOOD INCENSE TO HAS NATURAL ANTISEPTICS AND CAN BE USED TO CLEANSE THE AIR.
DUE TO ITS SPECIFIC PROPERTIES, BREATHING IN SANDALWOOD AROMATIC FRAGRANCE CAN HELP YOU FALL ASLEEP MORE EASILY, RELIEVE ANXIETY AND LIFT MELANCHOLY.
NAG CHAMPA IS THE FAMOUS FRAGRANCE OF INDIAN ORIGIN, BASED ON A COMBINATION OF MAGNOLIA (CHAMPACA OR CHAMPAK) AND SANDALWOOD. IT IS WIDELY RECOGNISED AND LOVED!
IT IS A POPULAR AND RECOGNIZABLE INCENSE FRAGRANCE THROUGHOUT THE WORLD. BACKFLOW INCENSE CREATES A MESMERISING LOOK WITH A WONDERFUL NATURAL FRAGRANCE. BACKFLOW CONES WORK WITH BACK-FLOW INCENSE BURNERS.
SINGLE BOX OF 24 BACK-FLOW DHOOP NAG CHAMPA CONES.
24 LONG DURATION CONES IN THE BOX
NATURAL INGREDIENTS HANDMADE
ORIGIN: INDIA.
CARE & USE: FIRST, LIGHT THE TIP OF THE BACKFLOW INCENSE CONE, AND ALLOW THE TOP TO GET GLOWING HOT (ALLOW 4 - 8 SECONDS OF BURNING BEFORE BLOWING OUT FLAME). NEXT, BLOW OUT THE FLAME AND ALLOW THE FRAGRANCE TO RELEASE. FINALLY PLACE THE CONE ON TOP OF THE WATERFALL BURNER DIRECTLY ABOVE THE HOLE.
NB: ASH WILL DROP SO ITS IMPORTANT TO PLACE ON A HEAT RESISTANT DISH/AREA SO NOT TO OCCUR DAMAGE. AREAS MUST BE WELL VENTED OPENING WINDOWS AND DOORS.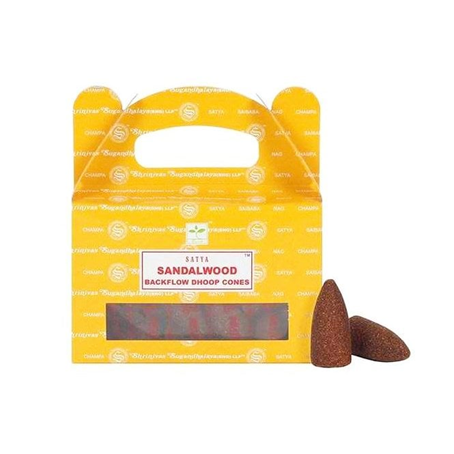 PLACE A CONE ON THE DHOOP HOLDER PROVIDED AND IGNITE THE TIP.
GIVE IT A COUPLE OF SECONDS TO BURN THEN EXTINGUISH THE FLAME TO LET THE SCENT FLOW.
SAFETY
IT IS IMPORTANT TO BE AWARE OF CERTAIN SAFETY TIPS. INCENSE IS HOT WHEN LIT, SO ITS IMPORTANT TO ALWAYS USE CAUTION. KEEP YOUR BURNER AWAY FROM CURTAINS OR ANY FLAMMABLE OBJECTS. KEEP INCENSE OUT OF THE REACH OF SMALL CHILDREN OR PETS. LET FRESH AIR INTO YOUR ENVIRONMENT WHILE YOU'RE BURNING INCENSE.