Description
DAKKARA BLACK FRANKINCENSE
BOSWELLIA NEGLECTA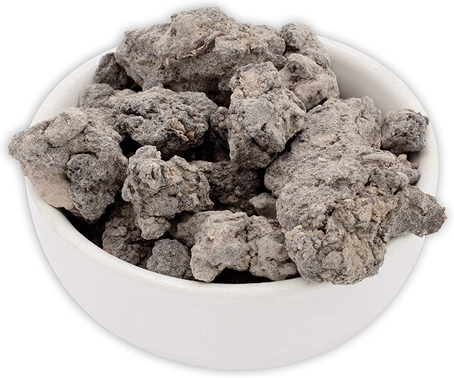 ORIGIN: OGADEN REGION IN ETHIOPIA
THE RARE BLACK FRANKINCENSE
PURIFICATION - PROTECTION - SPIRITUAL GROWTH AND KNOWLEDGE - MOOD LIFTER - MEDITATION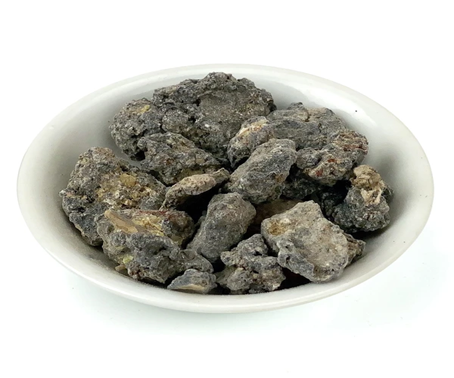 BLACK OLIBANUM IS A MIXTURE OF SIZES, LUMPS AND TEARS.
THE COLOR OF THE GUM IS BLACK WITH TINY SCATTERED SURFACES OF DARK ORANGE.
IT IS RULED ASTROLOGICALLY BY THE SUN LIKE ALL FRANKINCENSE AND HAS A STRONG FEELING WITH THE HEART AND CHEST, PHYSICALLY, AND EMOTIONALLY. JUST LIKE THE HEAT OF THE SUN ALL TYPES OF FRANKINCENSE ARE WARMING, GIVE A FEELING OF AWE, AND PROMOTE GREAT FEELINGS OF SPIRITUALITY AND CONTENTMENT. THIS IS A MUCH SWEETER BOSWELLIA THAN THAT OF ADEN, OMAN, SOMALIA AND INDIA WITH A SLIGHT MINTY NOTE. THE RESIN IS GREAT FOR RELAXATION AND TO RELEASE ANXIETY AND STRESS AS IT GIVES A SENSE OF CALMING.
COMMON USES
BURNING INCENSE
NATUROPATHY
DERMATOLOGY
NATURAL CANDLES
TEMPLES - MOSQUES - CHURCHES CONSECRATED INCENSE
AIR FRESHENER
FRAGRANCE I.E. - PERFUMES - COLOGNE
NATURAL SOAPS
AROMATHERAPY
COSMETICS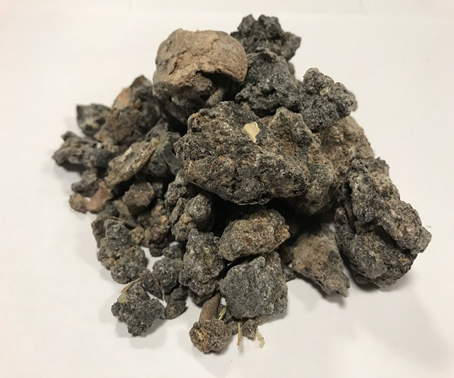 BOSWELLIA NEGLECTA CONTAINS ALPHA-PINENE, ALPHA-THUJENE, SABINENE, DELTA-3-CARENE, AND LIMONENE. IT ALSO CONTAINS SMALL TRACES OF BOSWELLIC ACID.
IT IS WARMING AND ANTI-INFLAMMATORY, SO IT CONVEYS FEELINGS OF AWE, SPIRITUALITY, AND CONTENTMENT.
THIS UNUSUAL TREE PRODUCES TWO DIFFERENT RESINS — BLACK AND WHITE. THE WHITE IS EXTREMELY RARE. THE TREES GENERALLY PRODUCE MORE BLACK AND THE WHITE IS ONLY PRODUCED AT CERTAIN TIMES OF THE YEAR. BOSWELLIA NEGLECTA, A GUM-RESIN, SEEPS OUT OF WOUNDS AND CUTS MADE TO THE TREE. AS IT DRIES OVER THE INJURED AREA, IT SEALS THE TREE'S WOUNDS. WHEN BURNED, THE RESIN REPELS INSECTS. IT IS USED IN PERFUME, IN FOOD, AND IN BEVERAGES AS A FLAVORING. IT HAS ANTI-INFLAMMATORY PROPERTIES. THIS FRAGRANT RESIN IS ALSO USED AN INCENSE DURING CEREMONIES.
THE BOSWELLIA NEGLECTA TREE CANNOT BE TAPPED TO INCREASE ITS YIELD OF THIS VALUABLE RESIN. THE RESIN SIMPLY FALLS OFF THE TREE, LANDS ON THE GROUND WHERE IT IS SCOOPED UP BY GATHERERS.
THE STICKY RESIN OOZES OUT ESSENTIAL OIL AND GUM WHEN YOU BREAK OFF A PIECE. USEFUL IN PERFUME AND INCENSE, IT SMELLS WONDERFUL. ITS TOTALLY RELAXING EFFECT CAN SEND YOU DRIFTING OFF INTO A BEAUTIFUL SLEEP.
THIS ONE COMES FROM ETHIOPIA. I HAVE TRIED B. NEGLECTA FROM KENYA BUT I LIKE THIS ONE BETTER.
THIS IS ONE OF THE BEST RESINS FOR ANXIETY OR STRESS AFTER A LONG DAY. IT ALSO SEEMS TO OPEN THE LUNGS. I USED IT IN A LOTION AND APPLIED IT TOPICALLY TO MY CLIENT'S CHEST. HE WAS IN HOSPICE WITH LUNG CANCER. WHILE THE RESIN DID NOT ELIMINATE CANCER, IT DID SOFTEN HIS LUNGS AND HELPED HIM BREATHE MUCH EASIER. I HAVE USED IT ON MYSELF FOR A BAD COUGH. IT SEEMED TO CALM THE COUGH AND MADE ME FEEL MORE COMFORTABLE.
I ALSO SELL IT IN GRANULES/POWDER FORM FOR THOSE WHO DO NOT WANT TO GRIND IT DOWN. YOU CAN GET IT HERE: BOSWELLIA NEGLECTA POWDER/GRAVEL
MY GOAL IS TO SELL QUALITY RESINS AT AN AFFORDABLE PRICE. SOME OF YOU KNOW ME AS THE PAJÉ OF RESINS BECAUSE OF THE KNOWLEDGE I HAVE FROM CONSTANTLY STUDYING THESE RESINS AND THE FRIENDSHIPS I HAVE CREATED WITH THOSE WHO SELL AND HARVEST THESE BEAUTIFUL TREES.
THESE RESINS ARE HARVESTED BY FAIR TRADE STANDARDS ONLY.