Description
GREEN HOJARI FRAKINCENSE SOMALI
BOSWELLIA CARTERII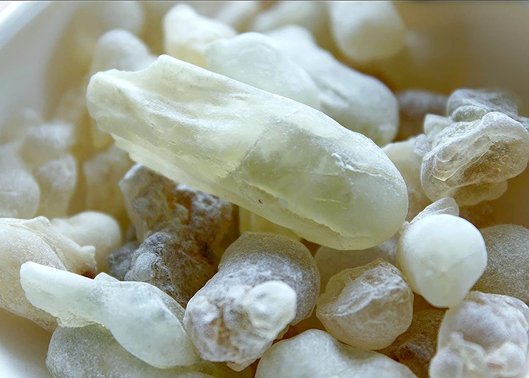 ORIGIN: SOMALIA
SOMALI GREEN INCENSE - BOSWELLIA CARTERII - 1ST QUALITY
SOMALIA'S GREENISH, PARTLY TURQUOISE INCENSE IS EVEN RARER THAN ITS OMANI BROTHER AND INCREDIBLY PRECIOUS AND INTENSE.
THE SMELL IS MORE INTENSE THAN NORMAL SOMALI INCENSE, BUT SOFTER THAN THE ROYAL HOJARI, WHICH STANDS OUT FOR ITS INTENSE CITRUS AND FRUIT AROMA.
TRADE NAME: BEYO INCENSE - MOXOR - MOHOR
HARVESTING PLACE: SOMALIA
PERFUME: LIGHT AND INTENSE AROMA WITH SUBLIMINAL AND BASIC BALSAMIC NUANCES.
MANY RESEARCHERS BELIEVE THAT BOSWELLIA CARTERII (SOMALIA) AND BOSWELLIA SACRA (OMAN) ARE THE SAME TREE. I DON'T THINK SO, BUT I WILL ONLY DISCOVER THE TRUTH AFTER CAREFULLY EXAMINING THE TWO TREES IN SOMALIA AND OMAN, WITH ANALYSIS. THE SMELL IS DEFINITELY DIFFERENT!