Description
FRANKINCENSE INCENSE STICK
10 BOX 12 PACKS 15 G
ORIGINAL CLASSIC INCENSE JOSH STICKS
NAG CHAMPA - SATYA SAI BABA - NAG CHAMPA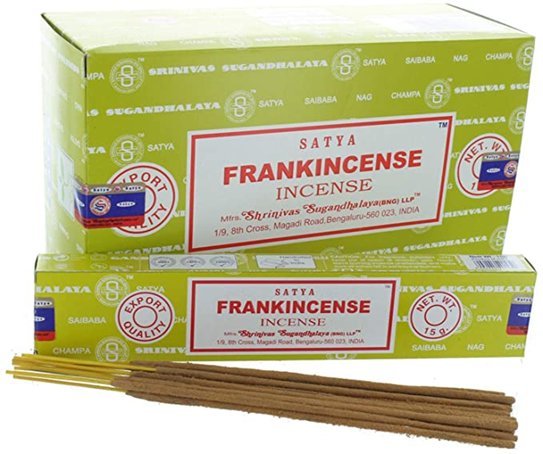 THIS BOX CONTAINS 12 X PACKS 12-15 STICKS (15G PACKET) PACKS OF SATYA FRANKINCENSE INCENSE STICKS. SATYA INCENSE IS MADE USING THE HIGHEST QUALITY INGREDIENTS AND EACH STICK IS HAND-ROLLED IN INDIA USING ARTISAN METHODS PASSED DOWN FROM GENERATION TO GENERATION.
SATYA FRANKINCENSE - FRANKINCENSE INCENSE JOSH STICKS BY SATYA. MADE BY SATYA KNOWN FOR NAG CHAMP, FRANKINCENSE THOUGH IS PROBABLY THE MOST RECOGNISED INCENSE.
FRANKINCENSE IS THE RESIN OF A TREE AND HAS BEEN USED FOR MILLENNIA IN PERFUMES AND INCENSE. MEANING "HIGH-QUALITY INCENSE" IT HAS A GORGEOUS SWEET, EVOCATIVE WOODY SCENT. FRANKINCENSE IS ONE OF THE MANY SATYA INCENSE SCENTS WE STOCK.
EVER POPULAR AND FANTASTIC QUALITY MAKES THESE A WINNER.
APPROX SIZE: 22CM
EACH STICK BURNS FOR ABOUT 30 MINUTES
APPROX 12-15 STICKS PER PACKET. 20CM LONG
NATURAL INGREDIENTS ARE BLENDED IN ORDER TO CREATE A SOOTHING AROMA
ORIGIN: INDIA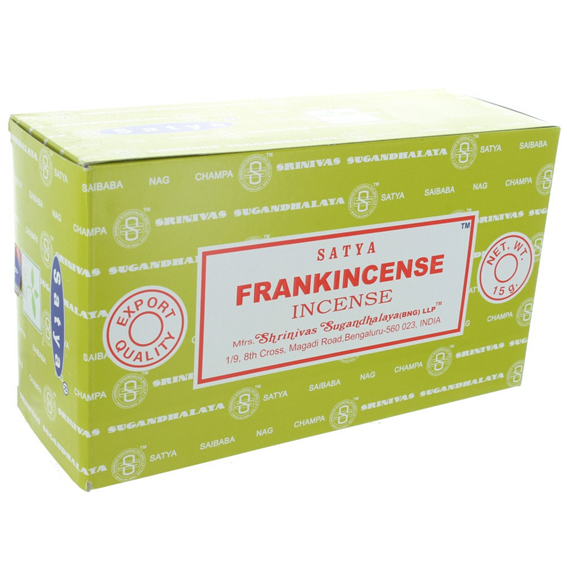 USE: USE IN / ON A HEAT RESISTANT BURNER. LIGHT THE TIP OF THE INCENSE USING A NAKED FLAME, CAREFULLY BLOW OUT THE FLAME AND ALLOW IT TO SMOULDER. NB: ASH WILL DROP SO ITS IMPORTANT TO PLACE ON A HEAT RESISTANT DISH/AREA SO NOT TO OCCUR DAMAGE. AREAS MUST BE WELL VENTED OPENING WINDOWS AND DOORS.
EACH INCENSE STICK IT INDIVIDUALLY HAND ROLLED IN THE HIGH QUALITY OILS SO EACH STICKS CAN VARY SLIGHTLY IN ITS THICKNESS. SOLD AS ONE PACK AT 15G WHICH CONSIST OF APPROXIMATELY 12-15 STICKS OR AS A BOX CONSISTING OF 12 PACKS.
BURNING FRANKINCENSE INCENSE CAN BENEFIT HEALING WORK BY PROMOTING A DEEPER RELAXED STATE IN THE HEALER, INCREASING SPIRITUAL ENERGY.
SANDALWOOD ALSO RELAXES THE HEART AND THROAT CHAKRAS.
OFTEN BURNED TO EXORCISE DEMONS AND EVIL GHOSTS, CONJURE BENEFICIAL SPIRITS, AND PROMOTE SPIRITUAL AWARENESS.