Description
POSITIVE VIBES INCENSE STICK
10 BOX 12 PACKS 15 G
ORIGINAL CLASSIC INCENSE JOSH STICKS
NAG CHAMPA - SATYA SAI BABA - NAG CHAMPA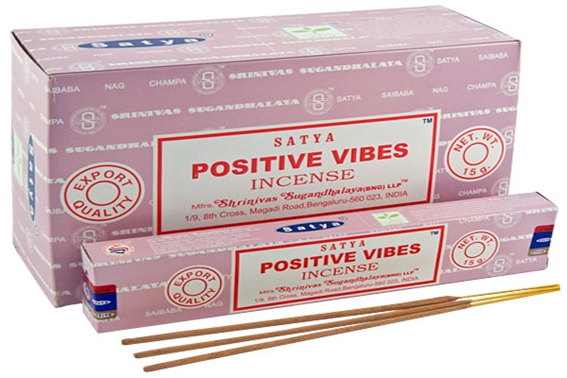 THIS BOX CONTAINS 12 X PACKS 12-15 STICKS (15G PACKET) PACKS OF SATYA POSITIVE VIBES INCENSE STICKS. SATYA INCENSE IS MADE USING THE HIGHEST QUALITY INGREDIENTS AND EACH STICK IS HAND-ROLLED IN INDIA USING ARTISAN METHODS PASSED DOWN FROM GENERATION TO GENERATION.
APPROX SIZE: 22CM
EACH STICK BURNS FOR ABOUT 45 MINUTES
APPROX 12-15 STICKS PER PACKET. 20CM LONG
NATURAL INGREDIENTS ARE BLENDED IN ORDER TO CREATE A SOOTHING AROMA
ORIGIN: INDIA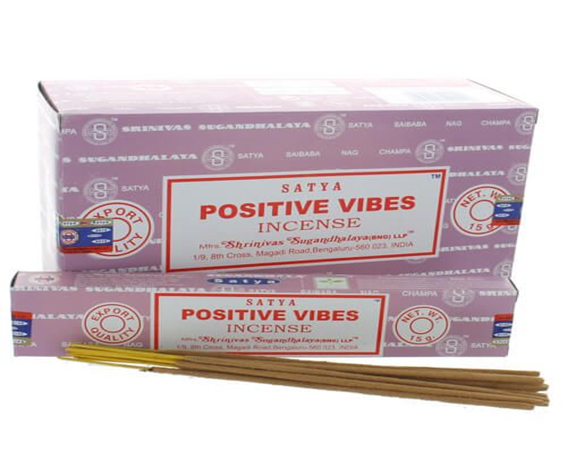 USE: USE IN / ON A HEAT RESISTANT BURNER. LIGHT THE TIP OF THE INCENSE USING A NAKED FLAME, CAREFULLY BLOW OUT THE FLAME AND ALLOW IT TO SMOULDER. NB: ASH WILL DROP SO ITS IMPORTANT TO PLACE ON A HEAT RESISTANT DISH/AREA SO NOT TO OCCUR DAMAGE. AREAS MUST BE WELL VENTED OPENING WINDOWS AND DOORS.
POSITIVE VIBES INCENSE STICKS - THIS UPLIFTING INCENSE, IS IDEAL FOR CREATING A FEELING OF PEACE AND SERENITY WHEN MEDITATING, POSITIVE VIBES INCENSE JOSH STICKS BY SATYA. MADE BY SATYA KNOWN FOR NAG CHAMP, POSITIVE VIBES IS ANOTHER AMAZING FRAGRANCE.
OFTEN BURNED TO EXORCISE DEMONS AND EVIL GHOSTS, CONJURE BENEFICIAL SPIRITS, AND PROMOTE SPIRITUAL AWARENESS.