Description
SOCOTRA KUA MYRRH GUM
COMMIPHORA KUA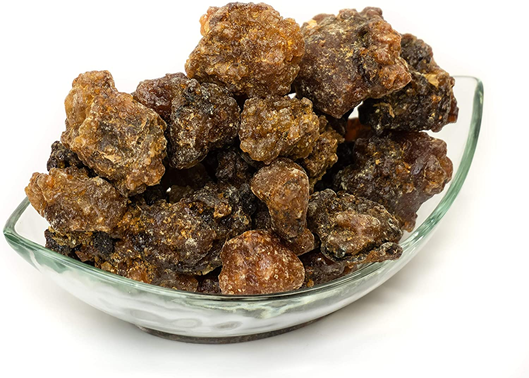 ORIGIN: SOCOTRA ISLAND - YEMEN
WE ARE PLEASED TO BRING YOU COMMIPHORA KUA, ONE OF THE FINEST SPECIES OF MYRRH IN THE WORLD. NATIVE ONLY TO THE ISLAND OF SOCOTRA, EACH PIECE IS GORGEOUS IN FRAGRANCE AND APPEARANCE.
IN ORDER TO CREATE AYURVEDIC MEDICINES, WHETHER AN ESSENTIAL OIL, TINCTURE OR ABSOLUTE, THIS SPECIES IS THE APOTHECARY AND NATUROPATHIC CHOICE. WHEN NOT AVAILABLE, TRADITIONAL COMMIPHORA MYRRHA FROM SOMALIA IS USED.
IT IS HARVESTED IN SMALL BATCHES AND UNDER STRICT REGULATIONS. IN ACCORDANCE WITH THE 2011 AGRICULTURAL RECORD ON THE ISLAND OF SOCOTRA, NO LIVE TREES ARE TOUCHED. ONLY NATURALLY FALLEN TREES THAT PRODUCE RESIN ARE USED. ONLY A FEW HUNDRED KILOGRAMS ARE COLLECTED EVERY FEW YEARS, AND EXPORTED IN SMALL BATCHES.
MYRRH HAS BEEN USED FOR CENTURIES TO INSPIRE PRAYER AND MEDITATION. IT HAS ALSO BEEN USED TO IMPROVE DIGESTION AND BOOST THE IMMUNE SYSTEM. VARIOUS TRADITIONS HAVE USED IT TO TREAT COUGHS, GUM DISEASE, WOUNDS, CANDIDA AND THE TREATMENT OF SKIN DISEASES. THIS DEEP REDDISH-BROWN RESIN IS ESPECIALLY IMPORTANT FOR ORAL HEALTH. MARINATE IN WATER FOR A FEW DAYS IN AN ENCLOSED CONTAINER FOR USE AS A DENTAL RINSE. ALSO ENCOURAGES CIRCULATION, SIMULATES THE IMMUNE SYSTEM, AND ENCOURAGES A WOMAN'S NATURAL CYCLE.
LOOKING FOR THE MYRRH ESSENTIAL OIL? WE HAVE.
SOCOTRA KUA MYRRH IS REALLY A SPECIAL MYRRH. IN ADDITION TO THE FACT THAT EXPORT FROM YEMEN HAS BECOME ALMOST IMPOSSIBLE SINCE THE WAR, THIS MYRRH LACKS THE TYPICAL AROMA OF BITTER MYRRH WHEN SMOKED.
ANYWAY, THE SMELL OF THIS TRANSPARENT-REDDISH MYHRRE IS VERY DIVERSE AND EXTRAORDINARY. THE AROMA WHEN SMOKING IS MILD, AFFECTIONATE, SLIGHTLY SWEET AND SOFT AND BALSAMIC WITH NUANCES THAT RESEMBLE ROASTED COFFEE.
IN TERMS OF ENERGY, KUA MYRRH HAS A VERY AFFECTIONATE AND ILLUMINATING EFFECT. IT STRENGTHENS OUR RESTLESS FEELINGS AND GIVES US STRENGTH AND COURAGE TO WALK THE SOMETIMES DIFFICULT PATH OF LIFE.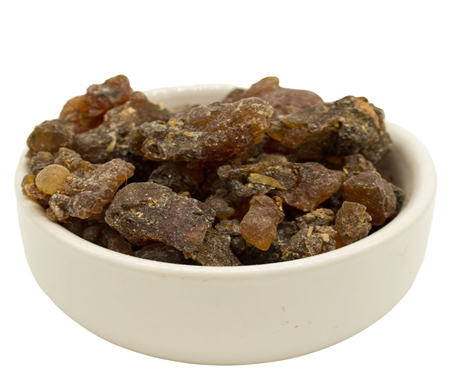 A RARE MEMBER OF THE MYRRH FAMILY FROM SOCOTRA ISLAND, YEMEN, HOME TO MEDIEVAL DRAGON BLOOD AND OTHER UNIQUE INDIGENOUS AROMATICS.
USED LOCALLY AS MEDICINE AND INCENSE. COMMIPHORA KUA IS ALSO USED TO SCENT CLOTHES AND BODY, AND CORRECTLY BEARS THE NAME SCENTED / SWEET AND SCENTED MYRRH.
WHEN BURNED LIKE AN INCENSE ON CHARCOAL, KUA MYRRH DISPLAYS AN AROMATIC PROFILE THAT IS QUITE DIFFERENT FROM ITS SISTERS, MYRRH, OPOPONAX, COMMIPHORA HOLZIANA, KATAF AND ERYTHAEA AND ADDS AN UNUSUAL TOUCH TO THE COMPOUND INCENSE.
SIMILAR TO A COMPLEX PERFUME, THE SCENT OF STEAMING COMMIPHORA KUA IS MUSKY, SWEET, SENSUAL, SEDUCTIVE AND DEEP. FOR ME, IT'S REMINISCENT OF SMELLING A STRANGER'S SENSUAL AND INTIMATE SCENT. ITS SMELL, WHEN BURNED, IS COMPLEX, FULL OF INFORMATION AND SENSUAL. AFTER BURNING IT, MY PARTNER MENTIONED, HOW I SMELLED GOOD, WITH A SPARKLE IN MY EYES.
I WOULD CONSIDER IT AN APHRODISIAC.
TO PERFUME YOUR CLOTHING OR BODY IN THE TRADITIONAL WAY
ONE STANDS ABOVE THE LIT CENSOR WHILE COMMIPHORA KUA IS BURNING AND ALLOWS SMOKE TO CARESS CLOTHES AND BODY TO CREATE A PERSONAL SCENT THAT LASTS ALL DAY. GARMENTS SUCH AS SCARVES, SHIRTS AND BURKAS CAN BE SUSPENDED ABOVE THE CENSOR AND IMPREGNATED WITH THE UNIQUE PERFUME OF C. KUA.
WE MUST REMEMBER THAT THE WORD "PERFUME" IS DERIVED FROM THE WORDS PAR / PER AND FUME, WHICH MEANS "FROM OR THROUGH SMOKE". THIS IS IN FACT THE ORIGINAL METHOD OF PERFUME USED FOR THOUSANDS OF YEARS IN MANY CULTURES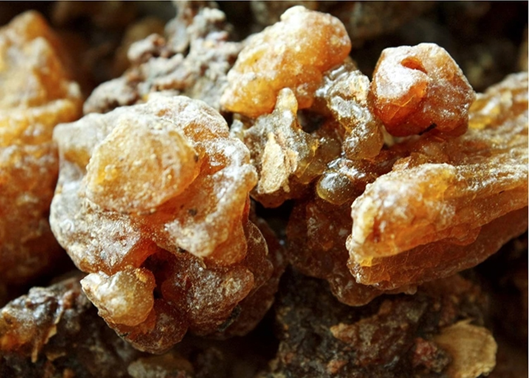 MEDICAL DISCLAIMER: OUR EXPERTISE LIES IN INCENSE MAKING AND FRAGRANCE. INFORMATION CONTAINED ON THESE PAGES IS SOLELY FOR YOUR ENJOYMENT. WE CAN NOT PROVIDE MEDICAL ADVICE OR RECIPES AS WE ARE NOT HEALTH PROFESSIONALS. BEFORE INGESTING ANYTHING THAT IS NOT FOOD, WE STRONGLY SUGGEST SEEKING COUNSEL FROM A LICENSED HEALTH PRACTITIONER.